【Case Study】G20 Osaka Summit 2019
By Lumens Editor Group
June 26, 2019 16455

G20 Osaka Summit 2019


•Date: June. 2019
•Country: Japan
•City: Osaka
•Website: https://g20.org/
•Application: International summit conference
•Lumens Product: VC-A50P PTZ Camera; VS-KB30 Camera Controller
•Along with: BOSCH DICENTIS Conference System



Application


•G20 is an international forum of 19 countries and EU that together represent 90% of the world economy. 2019 G20 Summit was held in Osaka, Japan.
•PTZ IP Cameras VC-A50P paired with IP Camera Controller are used to capture speakers and then broadcast and live streaming to facilitate language interpretation.
•Bosch DICENTIS,  the world's first IP-based conference system built on the OMNEO architecture, together with Lumens IP Cameras VC-A50P that provide live feeds to orchestrate the international summit conference.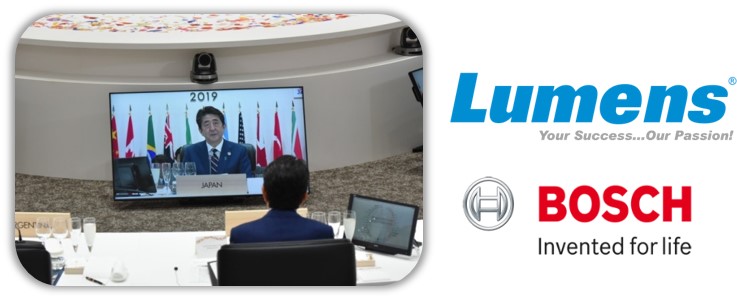 Why VC-A50P


•Outstanding Full HD image quality after comparing with other well-known brands
•PoE supports for easy installation
•Low-latency live streaming, support H.264, MJPEG
Why VS-KB30


•Lumens IP Camera auto-sensing
•Control up to 255 cameras over IP
•PoE supports for easy installation
•Joystick one hand operation pan-tilt-zoom
Why BOSCH DICENTIS


•IP based conference system solution
•Uses standard Ethernet network
•Solid PoE switch


"Lumens VC-A50P PTZ camera was chosen due to its outstanding capability. The cameras were easy to install, supports PoE for long-distance image/sound transmission and offer a nice image quality. The newly released IP camera controller also satisfies the need for control in order to broadcast the videos,"

Hideki Utsugi
Manager of Network Solution Business Unit, MTC Japan
Popular Posts
ProAV Lab
Case Study