Modern Courtroom elevates public confidence in the judicial system
Lumens Solution can turn your conventional courtroom into modern judicial land. The solution can record, live stream, and archive digitally, deliver transparency to the judicial system and make it quick and efficient to review. Professional video cameras help the digital transformation of evidence projection, on-premise display, and courtroom media production. Also, Lumen's modern video technology facilitates remote hearings and overflow rooms adapting to worldwide trends.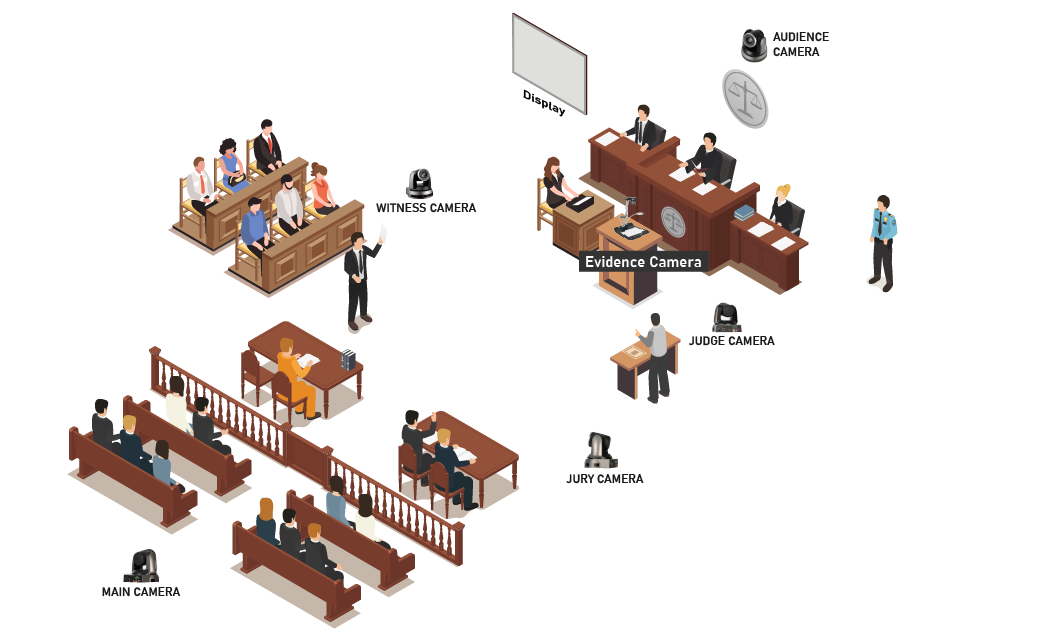 Key features
Digital Transformation
Hybrid Courtroom


Evidential Presentation
Enhance the presentation of evidence to all stakeholders in the court.
• Physical, documentary or photographic evidence displayed via a high-resolution document camera
• Electronic evidence presented using a computer or Blu-ray player
• Large and small format monitors all run through a switch


Recording Court Proceedings
Recording proceedings is standard practice in most judicial systems. Digital archiving makes it quick, efficient and transparent to review, analyze and report cases.
• Record independent cameras as a four-way split screen
• Produce a TV-style multi-angle production with camera switching


Live Streaming Court Proceedings
Streaming court proceedings delivers transparency to the judicial system and further elevates public confidence in the judicial system.
• Live transmission via multiple streaming platforms simultaneously
• Television-style picture in picture, titles and graphics create an informative production.



Multi-screen Display and Automatic Switching
Integrated with an intelligent control system, cameras will automatically capture the active speaker and display the output on monitors.
• Display live video on large and small format screens
• Integrated system incorporating the microphone array, cameras, HDMI matrix and media recorders
• Associate cameras with microphones to enable the audio to follow the video.


Archiving and Playback
Courtroom video recording secures the proceedings for archiving and review.
• Secure recordings on cloud severs and local storage
• Limit access to video recordings according to security privileges
• Play back recordings at the instigation of court officials
• Review facial expressions and body language as potential evidence
Remote Hearings
Remote court attendance is being increasingly adopted to comply with witness anonymity, public health mandates, measures to reduce costs and security concerns.
• Witnesses and defendants can attend court proceedings remotely using standard video conference software
• Attendees can participate securely from any location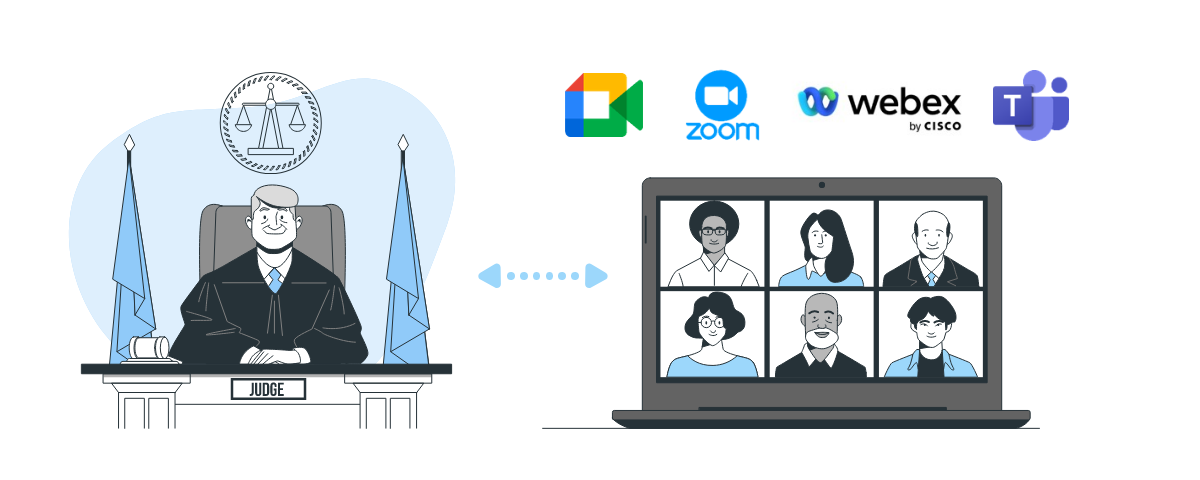 Overflow Rooms
Side rooms and viewing galleries enable courts to increase the capacity of the courtroom for the public while offering witnesses, friends and family members the privacy they may need during sensitive cases.
• Court proceedings broadcast live to overflow rooms
• Specific rooms dedicated to the press, the public and security teams
• Isolated rooms for the jury or witnesses
Key Elements
Need help getting started?