▶ NDI|HX vs NDI High Bandwidth
Data rates are very high for NDI High Bandwidth (see the table below). Therefore, NDI High Bandwidth is only suited to users with a dedicated high speed AV network and who need the very highest quality with the lowest latency.

In contrast, NDI|HX (HX stands for High Efficiency) runs at greatly reduced bitrates and can work on unmanaged environments such as the public Internet, or networks where bandwidth may be limited. NDI|HX is the best option for most users, delivering high-quality video, minimal latency, and low bandwidth consumption.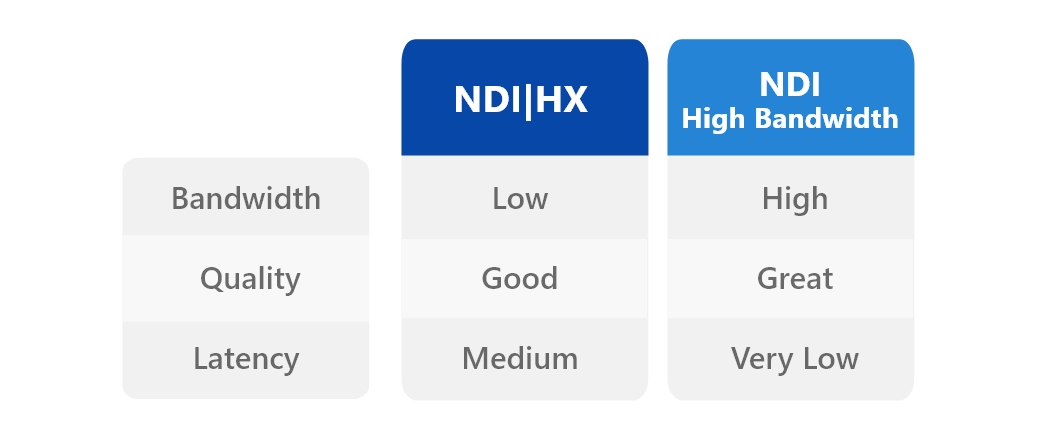 ▶ New Option of NDI "High Efficiency" - NDI|HX 3 
NDI|HX Version 3 (HX3) is the latest version of the NDI "High Efficiency" video over IP protocol. NDI®|HX3 delivers extremely high-quality video over Ethernet networks. It transmits video at very low latency and with moderate bandwidth consumption.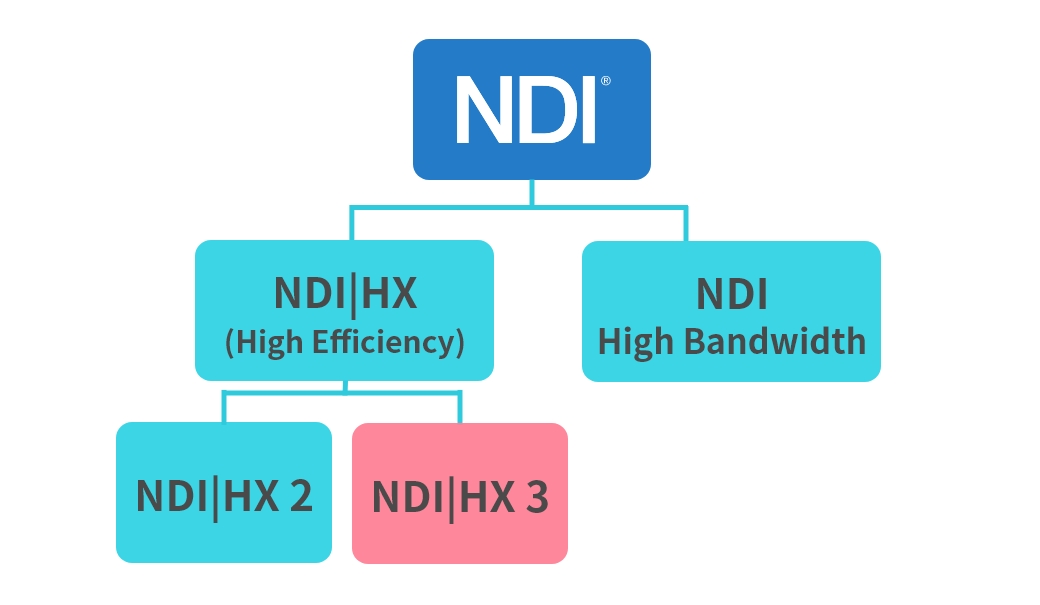 With the arrival of HX version 3, performance users have a new option. With NDI|HX3, users will see an increase in bitrates, an improvement in image quality and a reduction in latency. Where bandwidth allows, HX3 settings can be changed to enhance image quality, and minimize latency.



▶ NDI|HX3 vs NDI High Bandwidth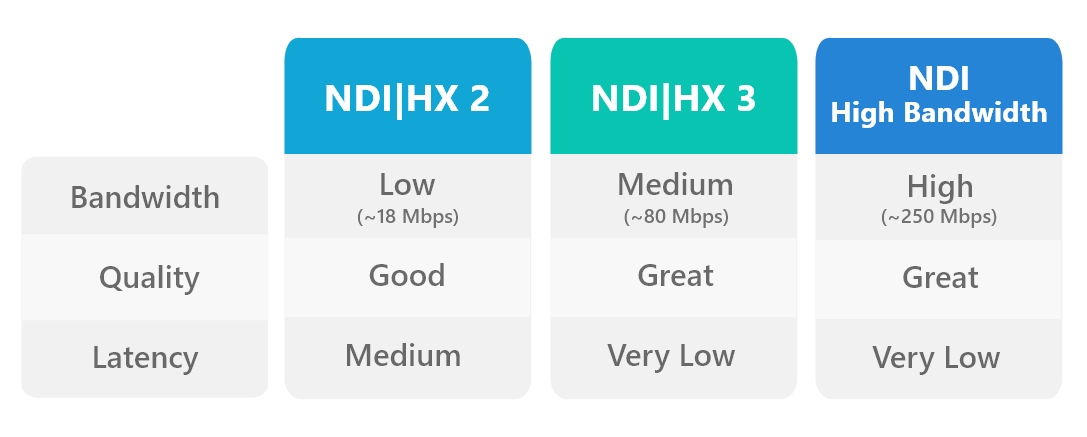 When it comes to NDI|HX3 and NDI|High Bandwidth, both are good formats, and the differences are actually more subtle that many believe. Below, we discuss in aspects of image quality, latency, cost, and remote production.

1. Image Quality
NDI high bandwidth uses the SpeedHQ image compression algorithm that has been around for more than 10 years. NDI|HX3 uses a newer generation of compression technology that produces truly excellent results. Both provide visually lossless images of broadcast quality.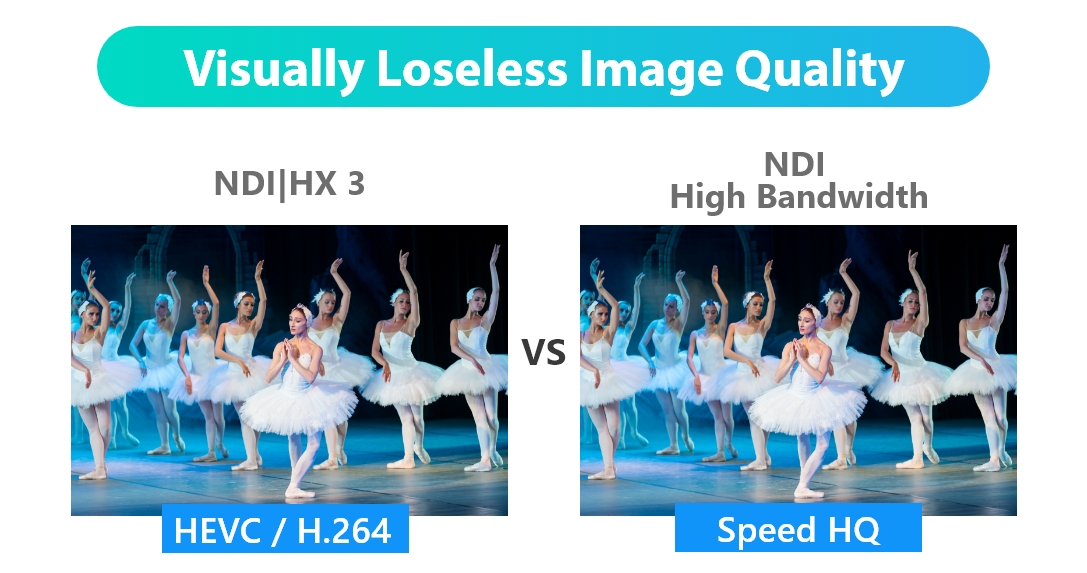 2. Latency
NDI|HX3 and NDI High bandwidth are almost indistinguishable in terms of latency. According to Lumens' analysis (comparing 1080p60 streams), NDI|HB utilizes about 180Mbps with a latency ranging from 60~80ms whereas NDIHX3 utilizes 80Mbps with a latency of ~100ms.


3. Remote Production
The high data rates of NDI High Bandwidth make it unsuitable for remote production. 
NDI|HX3 is more bandwidth efficient and makes remote production possible, bringing added flexibility, creativity, and cost savings.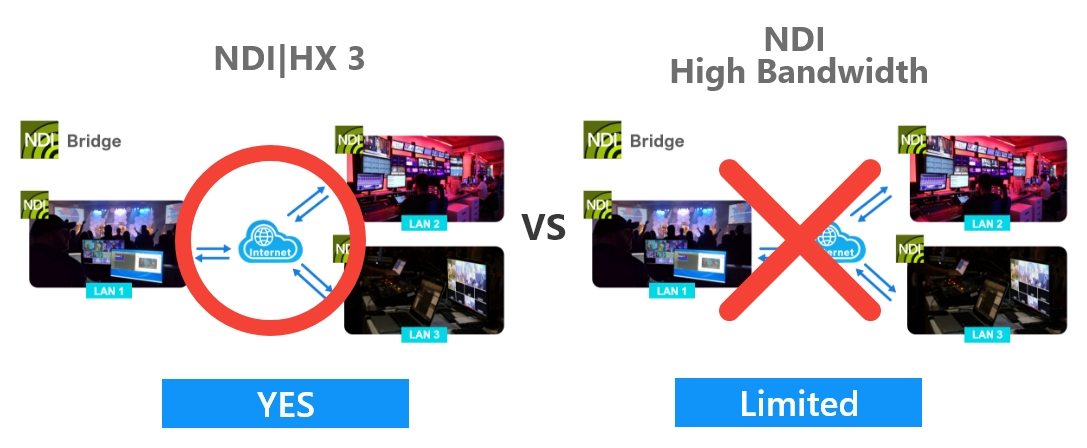 4. Cost
NDI|HB uses very high data rates. If your video production involves multiple NDI streams, NDI|HB requires higher network bandwidth and availability. As a result, the start-up costs are much higher in terms of network infrastructure.
 
▶ The Art of NDI|HX3
NDI|HX3 delivers the perfect balance of bandwidth and quality. Previously, users appreciated the video quality of full NDI, but many networks were unable to cope with high data rates. Conversely, NDI|HX and NDI|HX2 were ideal in terms of bandwidth, but with a slight compromise in terms of image quality. With the advent of version 3, NDI|HX is suitable for most modern IP networks, but delivers superb video quality with minimal delay.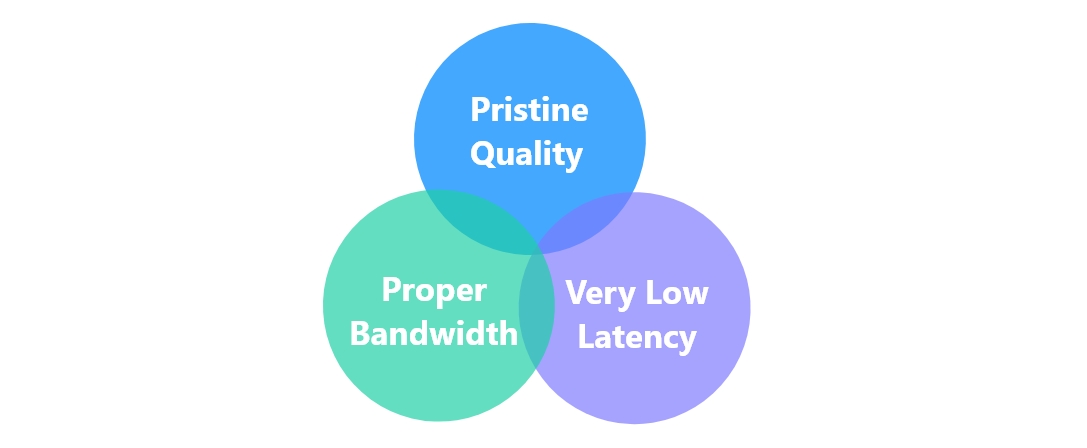 ▶ What does the future hold?
NDI|HX3 is likely to be the choice for the vast majority of users in live events, live video production, AV, conference production, remote production, and streaming. However, NDI|High Bandwidth will still be popular in professional broadcasting where requires very highest quality with and lowest latency.