Pain Points in Traditional Meeting Rooms
1. Conference room table gets cluttered with cables and adapters.
2. It can take 10 minutes to set up the video conference.
3. BYOD audio quality can be poor, especially in large spaces and multiple participants.
4. Cameras, microphones, and speakers are connected to the computer by relatively short USB cables.
5. The position of the display cable is fixed, and only one person can connect to the screen at a time.
6. Mobile devices generally cannot share screens.
Solution Features
Perfect audio performance
• Beamforming Microphones
   The Lumens MS-10 features an array of 5 directional microphones that have echo cancellation and noise suppression to capture every participant's voice clearly.
• Professional Loudspeaker
   Lumens MS-10 includes a passive diaphragm loudspeaker design to enhance human voices. Distortion is very well controlled at higher volumes. The speaker is ideal for medium-sized meeting rooms, providing clear and natural voice communications.
Hybrid Meeting Space
• 
Instant Video Conferencing
   With the 
Barco
 ClickShare Wireless Conference, you start a video conference with a single click.
• More Constructive Meetings
   Enjoy interactive screen sharing to enhance discussions.
• Sharing without Restriction
   Share your screen and switch to colleagues' screens at your leisure.
Clutter-free Meeting Rooms
• Bring Your Own Device
   Plug the USB ClickShare Button into your laptop for instant on-screen projection, with no need for another cabling.
•
Wireless Connection
Barco
 ClickShare connects wirelessly with your laptop and a wide range of audio-visual peripherals.
• Worry-free Interface and Cabling
   A wireless connection replaces long cables and keeps the meeting room looking professional.
Capture Everyone with Ease
• Intelligent Auto Framing
   The MS-10's auto-framing immediately detects all participants. It dynamically adjusts its frame to include each delegate, re-framing the view if participants join or leave during the meeting.
• Wide angle view
  120˚ viewing angle is ideal for small meeting spaces, allowing all attendees to be included.



 
Product Selection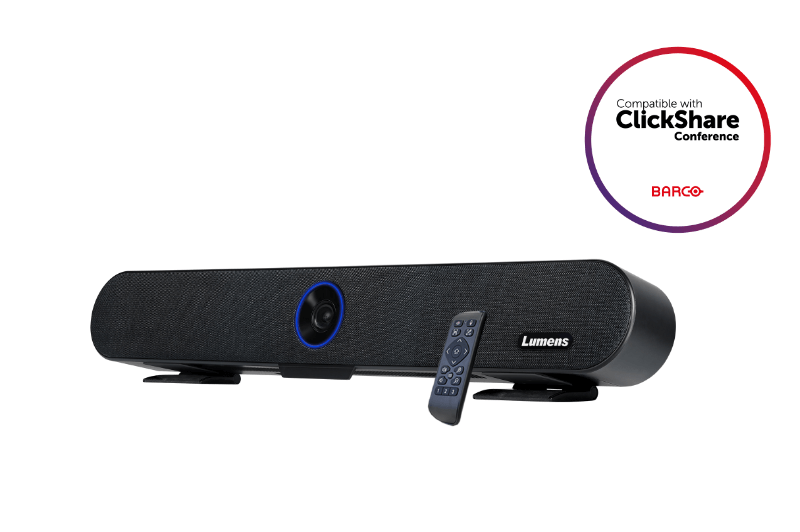 • All-in-One Video Soundbar 
Lumens MS-10
• Wireless Presentation System
Barco ClickShare CX30
Barco ClickShare button
• Interactive Display
Large Format Touch Screen Display
System Deployment