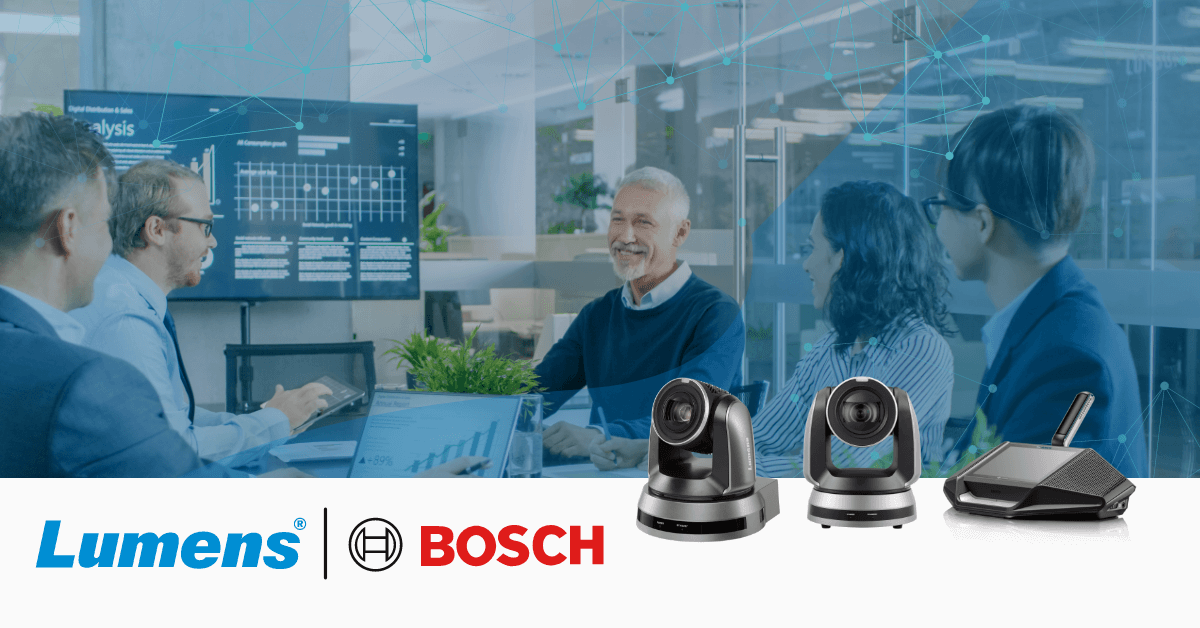 Hsinchu, Taiwan, April 8, 2021 – Lumens® Digital Optics Inc., the global leader in the Pro A/V market, today announced the new partnership with Bosch on the seamless integration of Lumens IP PTZ cameras with Bosch conference systems. This integration provides superior image quality from small local events to large international summits.
The Lumens VC-A71P 4K 60fps IP PTZ camera, VC-A61P 4K 30 fps IP PTZ camera, and VC-A50P 1080p IP PTZ camera deliver an ultra-clear and vivid live video image quality. Its rotational ability allows it to horizontally and vertically cover large areas in 4K / 1080p high resolution. The superior 30x-20x optical zoom capability provides zooming out and in for capturing details without the loss of image quality.
From now on, Lumens PTZ cameras can be used along with Bosch conference systems, with more than 65 years of experience, Bosch is a well-established partner and true innovation leader in quality conferencing. An outstanding product portfolio with award-winning designs is a perfect fit for any meeting environment. The modern solutions from Bosch offer more, in terms of capabilities, security and return on investment, to meet the needs of customers and professionals around the world.
This seamless integration provides a flexible solution and easy installation with ultra-clear video quality and the safeguarding of sensitive data throughout the conference chain.
Information:
For more information about Lumens and Bosch Integration Partnership, visit: https://www.mylumens.com/en/Page/12/lumens-bosch-professional-conference-solutions

For more information about Bosch, visit: https://www.boschsecurity.com/xc/en/solutions/conference-solutions/
Follow Bosch on LinkedIn: https://www.linkedin.com/showcase/bosch-conference-solutions/

For more information about Lumens, visit: https://www.mylumens.com/
Follow Lumens on Facebook: https://www.facebook.com/Lumensinc
Follow Lumens on Twitter: https://twitter.com/LumensLadibug
Follow Lumens on LinkedIn: https://tw.linkedin.com/company/lumens-integration-inc
Follow Lumens on YouTube: https://www.youtube.com/c/MyLumens
Press Contact:
Tiffany Lin, Marketing Executive
Email: tiffany.lin@lumens.com.tw , Phone: +886-3-552-6255 ext. 341
About Lumens Digital Optics Inc.
Lumens® offers superior 4K and Full HD PTZ cameras, videoconferencing cameras, document cameras, capture vision system and a wireless presentation system. The cameras can be easily set up and display quality 4K and Full HD images. Lumens cameras provide a dynamic live production for every environment.