Seamless System Integration with Lumens LC200 CaptureVision System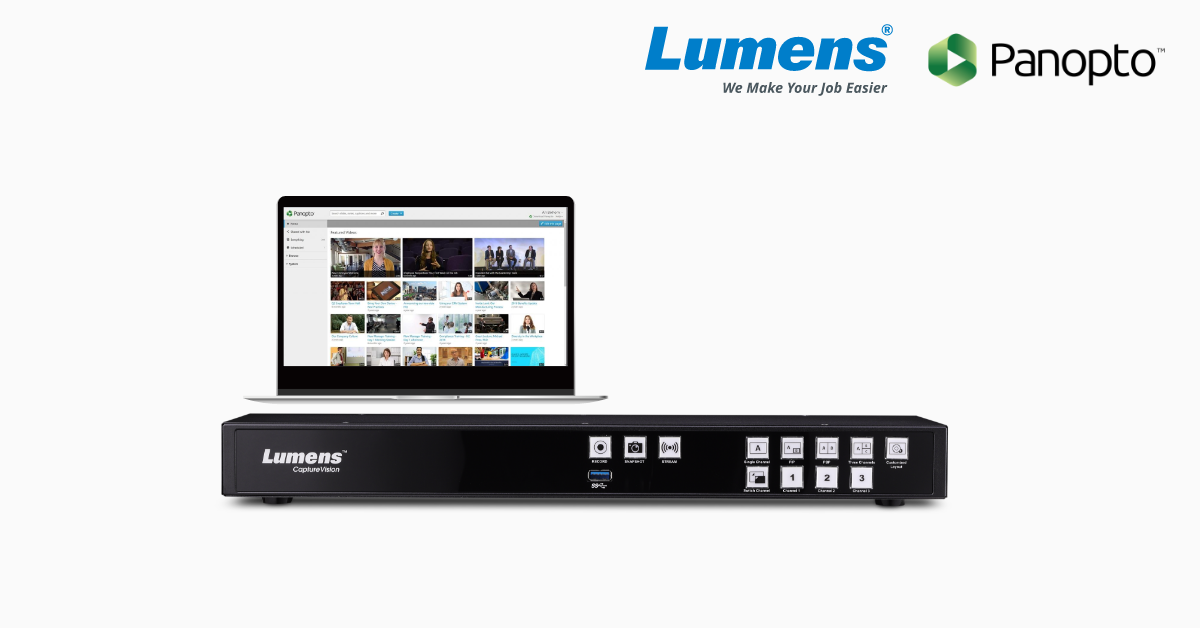 Hsinchu, Taiwan, February 25, 2021 – Lumens® Digital Optics Inc., today announced a new partnership with Panopto™, the leader in video management systems. The Lumens LC200 CaptureVision System is seamlessly compatible with Panopto. The integration provides organizations with a cost-effective unified solution for recording, live streaming, and managing video content.
The Lumens LC200 CaptureVision system supports capturing up to four video sources simultaneously through multiple inputs and also allows switching between them, which makes the Lumens LC200 the ideal core system for your video project. Lectures, presentations, or any video content can be captured through the LC200 and automatically uploaded to Panopto's secure video content management system. The video recording can be played on any device. Viewers can watch videos easily anytime and anywhere with Panopto.
This effortless integration with LC200 and the Panopto system allows video capturing, automatic scheduling, live streaming, and video content management needs in classrooms, corporate training, telehealth, live events, or a variety of environments.
Information:
For more information about Lumens, visit: www.MyLumens.com
For more information about Panopto, visit: https://www.panopto.com/
Follow Lumens on Facebook: https://www.facebook.com/Lumensinc
Follow Lumens on Twitter: https://twitter.com/LumensLadibug
Follow Lumens on LinkedIn: https://tw.linkedin.com/company/lumens-integration-inc
Follow Lumens on YouTube: https://www.youtube.com/c/MyLumens
Press Contact:
Tiffany Lin, Marketing Executive
Email: tiffany.lin@lumens.com.tw , Phone: +886-3-552-6255 ext. 341
About Lumens Digital Optics Inc.
Lumens® offers superior 4K and Full HD PTZ cameras, videoconferencing cameras, document cameras, capture vision system and a wireless presentation system. The cameras can be easily set up and display quality 4K and Full HD images. Lumens cameras provide a dynamic live production for every environment.