Exclusive Auto-Tracking Technology makes ProAV Collaboration Easier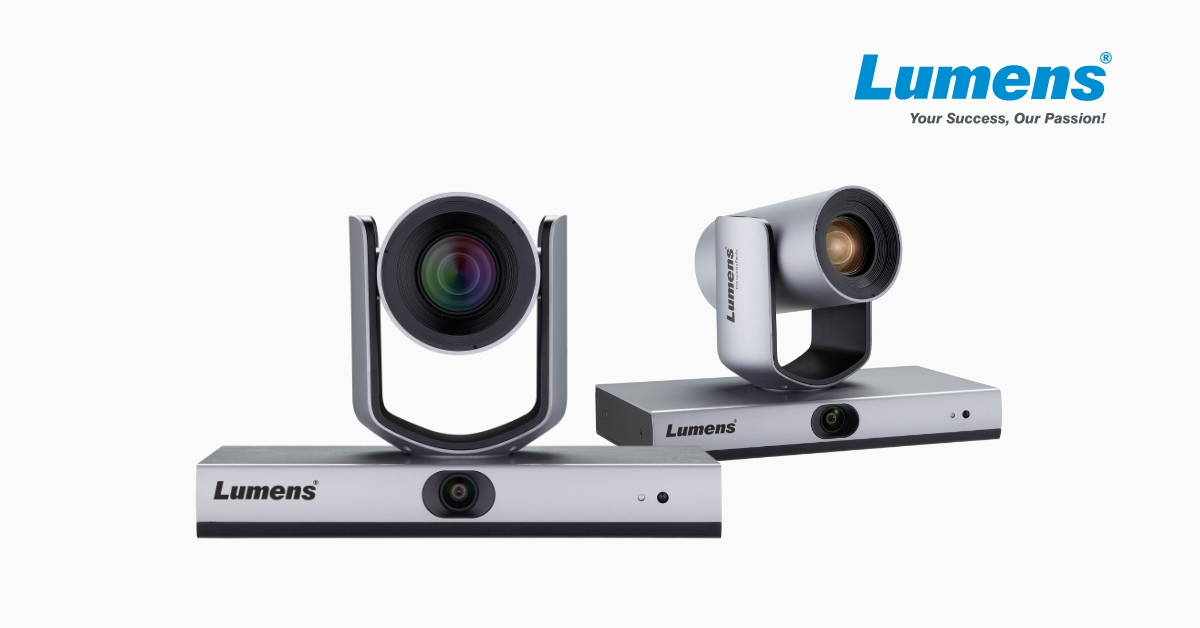 Hsinchu, Taiwan, November 10, 2020 – Lumens® today unveiled the new professional VC-TR1 Auto-Tracking Camera. The VC-TR1 is equipped with an exclusive auto-tracking facial detection technology. There are three advanced tracking modes; Stage Tracking, Everywhere Tracking and Partition Tracking. Each advanced tracking mode has its own unique function.
Each tracking mode has its own unique style making the camera applicable for multiple video applications. The Stage Tracking Mode ensures a target on a stage will be tracked fluidly and steadily to present high-quality video. For the Everywhere Tracking Mode, a speaker can leave the stage to interact with the audience and is capable to move around without wearing any type of tracking device. There are no restrictions for space or connectivity, even if the speaker is obscured by other people. Finally, the Partition Tracking creates up to four preset zones for a presenter to walk in a specific area. The VC-TR1 will capture the content on display and a presenter with the innovative auto-tracking feature and smooth PTZ functions. Finally, these three tracking modes can work cohesively. One simple click is needed to track quickly and precisely. This Super Tracking Mode allows you to save cost and time while providing your video with a variety of shooting ranges.
In the past, using a traditional video camera had its challenges for distance learning or a large event because it only provides a narrow field of view image. The auto-tracking camera VC-TR1 integrates a PTZ camera and 112° FOV panoramic camera. Thanks to the dual lens design, it can capture the whole view and track a speaker simultaneously. While in the process of tracking, the VC-TR1 automatically switches the video frame. Audiences see not only a presenter but also the content of a whiteboard or presentation material. With the VC-TR1 auto-tracking camera, there are no more limitations and it enhances the learning experience.
In addition, the VC-TR1 delivers the most vivid and dynamic image quality with a 1080p Full HD sensor and 20x optical zoom. These functions can clearly capture important details and enhance the reality of live streaming which involves the viewers more.
The VC-TR1 auto-tracking camera supports multiple output interfaces such as HDMI, 3G-SDI, IP (PoE) and USB, etc. The intelligent auto-tracking system of VC-TR1 allows Pro A/V collaboration easier and users can save more personnel cost without hiring professional camera operators. The VC-TR1 is ideal for content production applications in a wide range of vertical markets, such as distance learning, video conferencing, event staging and more.
Availability
The VC-TR1 Auto Tracking camera is available now.
Information:
For more information about Lumens, visit: www.MyLumens.com
Follow Lumens on Facebook: https://www.facebook.com/Lumensinc
Follow Lumens on Twitter: https://twitter.com/LumensLadibug
Follow Lumens on LinkedIn: https://tw.linkedin.com/company/lumens-integration-inc
Follow Lumens on YouTube: https://www.youtube.com/c/MyLumens
Press Contact:
Tiffany Lin, Marketing Executive
Email: tiffany.lin@lumens.com.tw , Phone: +886-3-552-6255 ext. 341
About Lumens Digital Optics Inc.
Lumens® offers superior 4K and Full HD PTZ cameras, videoconferencing cameras, document cameras, capture vision system and a wireless presentation system. The cameras can be easily set up and display quality 4K and Full HD images. Lumens cameras provide a dynamic live production for every environment.