Better Video Conferencing Experiences through Collaborative Technology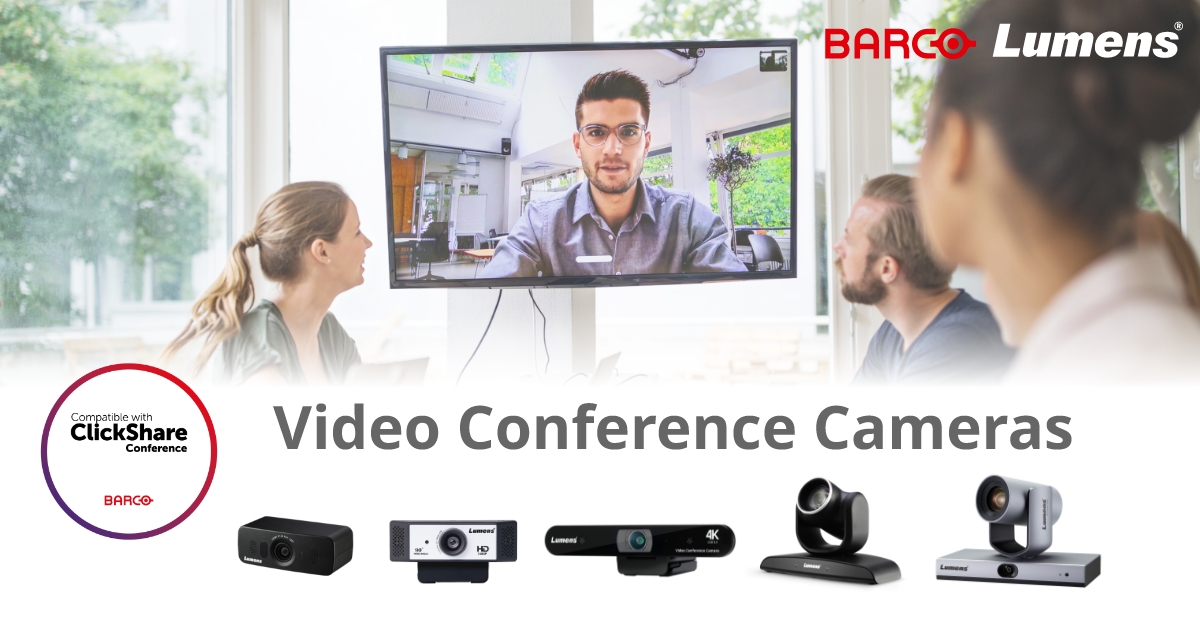 Hsinchu, Taiwan, October 19, 2020 – Lumens® the global leader in the ProAV market, today announced its 4K and Full HD video conference cameras and auto-tracking camera have joined the Barco ClickShare Alliance Program. Barco is the global leader in professional meeting room visualization and collaboration solutions. This technology partnership allows Lumens and Barco to bring users innovative and seamless video conferencing solutions.
Collaborating with Barco's ClickShare wireless conferencing system, Lumens video conference cameras offer the end users an easy-to-use solution and a variety of meeting space options. With the Barco Clickshare button, everyone in the room can instantly see and hear remote participants via the video conference software and instantly share attendee laptop content.
Video conferencing adoption has significantly increased due to the expanding corporate environments. Lumens VC-B30U delivers smooth pan/tilt/zoom (PTZ) camera movement and a superior 12x optical lens applicable for mid-to-large size rooms. The upcoming VC-TR1 captures a presenter with the innovative auto-tracking feature and smooth PTZ functions in mid-to-large size rooms. The VC-B11U has an impressive auto framing feature that can detect everyone at 120° in a wide angle. It ensures all participants are framed in a perfect view in small-to-mid size rooms. The VC-B10U has a panoramic 120° viewing angle and 4K image quality that ensures all the participants can be seen clearly. The VC-B2U is equipped with a professional Full HD sensor to provide the best color reproduction. It is perfect for huddle spaces and work from home (WFH) environments.
The integration of wireless video conferencing solutions between Lumens and Barco provides corporate environments with a more interactive video communications experience in workspaces, in addition to personal spaces, huddle room, or a meeting room.

Availability
The Lumens Video Conference Solution for Barco ClickShare Conference is available now.
https://www.mylumens.com/en/Page/16/lumens-barco-wireless-video-conferencing-solution
Compatible Model List: VC-B30U, VC-B11U, VC-B10U, VC-B2U and VC-TR1.
Information:
For more information about Lumens, visit: www.MyLumens.com
Follow Lumens on Facebook: https://www.facebook.com/Lumensinc
Follow Lumens on Twitter: https://twitter.com/LumensLadibug
Follow Lumens on LinkedIn: https://tw.linkedin.com/company/lumens-integration-inc
Follow Lumens on YouTube: https://www.youtube.com/c/MyLumens
Press Contact:
Tiffany Lin, Marketing Executive
Email: tiffany.lin@lumens.com.tw , Phone: +886-3-552-6255 ext. 341
About Lumens Digital Optics Inc.
Lumens® offers superior 4K and Full HD PTZ cameras, videoconferencing cameras, document cameras, capture vision system and a wireless presentation system. The cameras can be easily set up and display quality 4K and Full HD images. Lumens cameras provide a dynamic live production for every environment.