Simplify Live Streaming with NDI® |HX Technology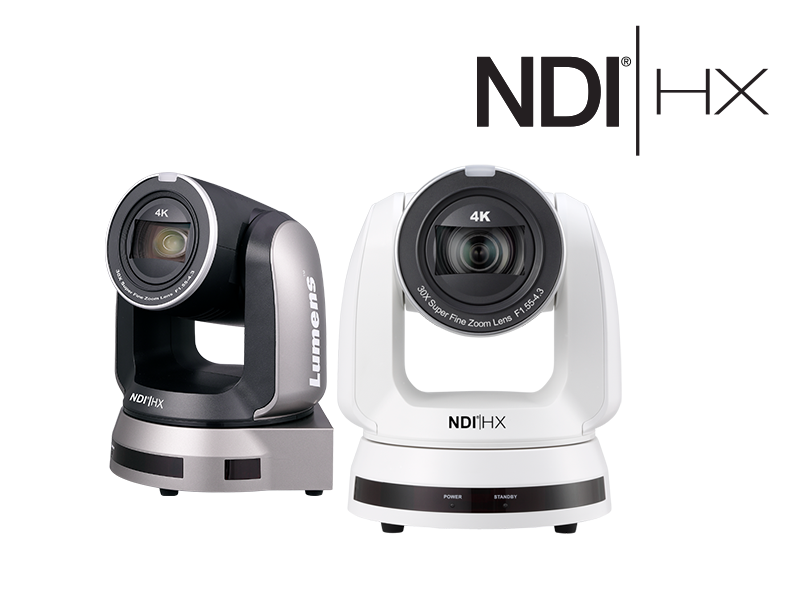 Hsinchu, Taiwan, September 28, 2020 – Lumens® Digital Optics Inc., today announced the VC-A71PN Ultra HD PTZ camera that transmits 4K 60fps video directly to NDI®. The camera is packed with high-end features, making it applicable for multiple applications such as live streaming, broadcasting, live events, house of worship, etc.
The new VC-A71PN is equipped with world leading video standard NDI® |HX allowing the camera to deliver and receive high video quality with ultra-low latency, which utilizes NDI-based video production workflows without additional configuration, reducing cost and shortens installation time frames. NDI® |HX is also suitable for switching in a live production environment which simplify live streaming process.
Thanks to the professional 1/1.8 type progressive CMOS sensor with 8-megapixel output resolution, the VC-A71PN delivers an extremely clear and vivid live image effortlessly. Quick and near-silent PTZ operations with the superior 30x optical zoom capability in 4K accommodates wide-angle scenes and tightly framed close-ups. The camera provides outstanding video performance and displays details even in the low light conditions without any distortion.
The VC-A71PN can empower users to build more agile, flexible and affordable systems that provide live productions with more freedom. It is a top choice for NDI-powered video production workflows.
*NDI® is a registered trademark of NewTek, Inc.
Availability
The VC-A71PN 4K NDI®|HX PTZ camera is available now.
Information:
For more information about Lumens, visit: www.MyLumens.com
Follow Lumens on Facebook: https://www.facebook.com/Lumensinc
Follow Lumens on Twitter: https://twitter.com/LumensLadibug
Follow Lumens on LinkedIn: https://tw.linkedin.com/company/lumens-integration-inc
Follow Lumens on YouTube: https://www.youtube.com/c/MyLumens
Press Contact:
Tiffany Lin, Marketing Executive
Email: tiffany.lin@lumens.com.tw , Phone: +886-3-552-6255 ext. 341
About Lumens Digital Optics Inc.
Lumens® offers superior 4K and Full HD PTZ cameras, videoconferencing cameras, document cameras, capture vision system and a wireless presentation system. The cameras can be easily set up and display quality 4K and Full HD images. Lumens cameras provide a dynamic live production for every environment.