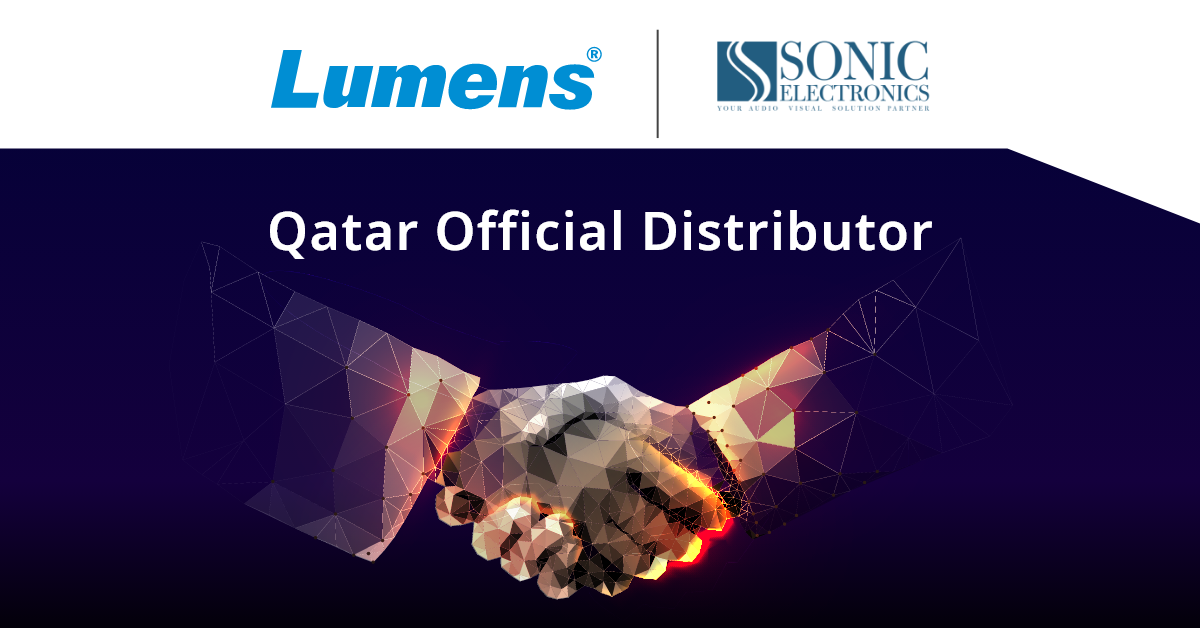 Hsinchu, Taiwan, September 4, 2023 – Lumens® Digital Optics Inc., a leading brand in ProAV solutions, today announced Sonic Electronics as the new exclusive distributor for Lumens All product lines in Qatar, such as Lumens CamConnect Pro, PTZ Cameras, Auto-Tracking Cameras, NDI Cameras, Box Cameras, Media Processors, Document Cameras, and AV over IP Systems.

Sonic Electronics is a professional Audio, Video, control, Lighting, Rigging and Stage effects equipment distributor based in Qatar. It represents a collection of technology brands and end to end project support services. As a leading Audio-Visual distributor, Sonic Electronics understands the unique requirements of different spaces and are well-positioned to offer the right solution by providing an excellent business environment.

Mr. Santhosh Vasu, General Manager of Sonic Electronics said: "We are excited to partnership with Lumens, a company that shares our promises and to provide their deep technological heritage of image processing, video electronics, and optical technology in this growing Audio Visual & IT Industry. Our collaboration with Lumens will not only enhance our product offerings but also enable us to explore new avenues of growth in the Qatar Region. "Association with Lumens will take a new milestone in the growing AV over IP industry and Lumens products are superior in Technology and features", added by Mr. Muhammed Altaf - Technical Manager of Sonic Electronics.

David Liu, Head of Business Development at Lumens APAC & MEA Region for Lumens commented: "Qatar has undergone substantial growth and development over recent decades, cultivating an intriguing and dynamic market that appeals to both domestic and international businesses. As a prominent global figure in the ProAV industry, Lumens is dedicated to introducing advanced AV over IP Solutions to the Qatar market. Our partnership with Sonic Electronics further solidifies our shared dedication to innovation and high-quality products. This strategic alliance is positioned to drive us to unparalleled achievements in the ProAV and Unified Communication Industry."

Eric Wang, Regional Sales Manager at Lumens, said: "Sonic Electronics stands out as a premier distributor of professional Audio, Video, Control, Lighting, Rigging, and Stage effects equipment in Qatar. Their dedicated team remains highly motivated and consistently stays abreast of cutting-edge Audio-Visual technologies and services. This commitment ensures Lumens customers receive top-tier products, expert guidance, and efficient service."


About Lumens Digital Optics Inc.
Lumens® Digital Optics Inc., a Pegatron Group company, is a leader in optical products. Lumens' product offerings include CamConnect Pro, HD and 4K PTZ cameras, auto-tracking and auto-framing cameras, media processors, IP transmitters and decoders and document cameras. Founded in 1998, the company was created by a team with a deep technological heritage of image processing, video electronics, and optical technology. With the support of the Pegatron Group, Lumens is continuously improving product designs to be used in video studios, live events, classrooms, conference rooms, and for distance learning. For more information, visit Lumens' website.

About SONIC ELECTRONICS
Sonic Electronics is a professional Audio, Video, Control, Lighting, Rigging, and Stage effects equipment distributor based in Qatar. We represent a collection of technology brands and end to end project support services. As a leading Audio-Visual distributor, we understand the unique requirements of different spaces and are well-positioned to offer the right solution by providing an excellent business environment, our staff are highly motivated and stay up to date with current Audio-Visual technologies and services. We strive to achieve the highest customer satisfaction with our superior products, expert advice, and efficient service. The brand is our promise; we create the true nature of the sensory experience for our customers.

For more information about Sonic Electronics, visit: https://www.sonicelec.com/
Follow Sonic Electronics on LinkedIn: https://www.linkedin.com/company/sonicelectronicsqatar/

Press Contact, Lumens
Eling Chen, Marketing Manager
Email: eling.chen@lumens.com.tw, Phone: +886-3-552-6255 ext. 238