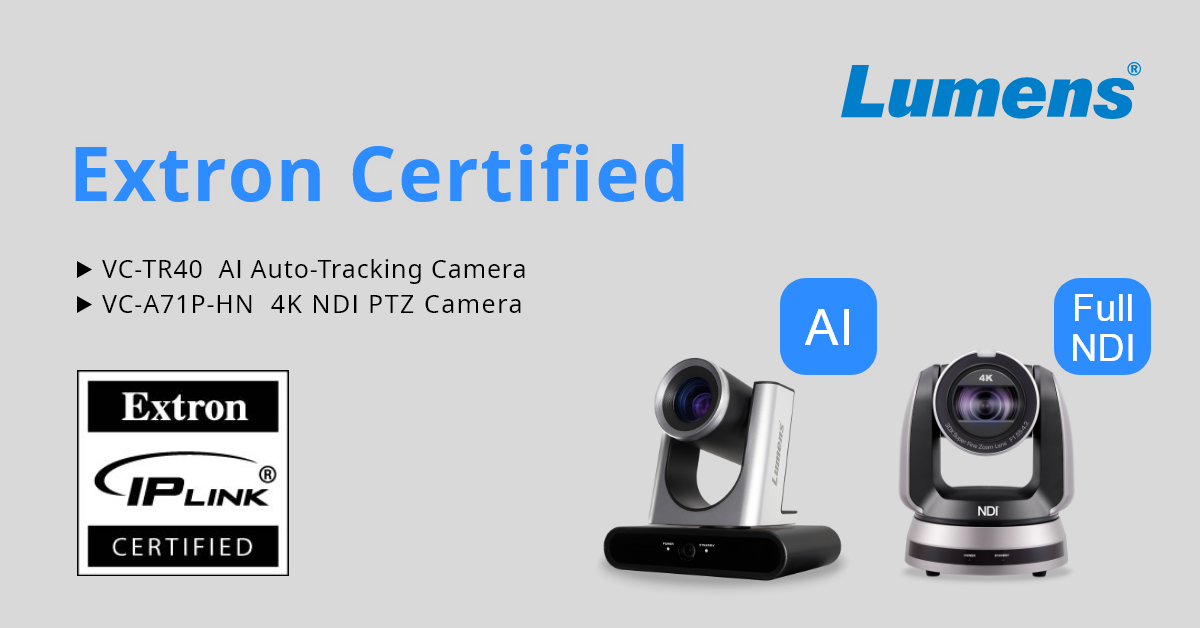 Hsinchu, Taiwan, August 10, 2023 – Lumens® Digital Optics Inc. has announced an important development with Extron's certification of its VC-TR40 and VC-A71P-HN PTZ cameras for the IP Link Pro family of control processors. The new control system drivers enable the cameras to be fully integrated with Global Configurator Plus and Global Configurator Professional for use with Extron TouchLink Pro touchpanels, eBUS® button panels, and Network Button Panels.

Lumens VC-TR40 and VC-A71P-HN PTZ cameras deliver excellent performance with advanced functionality. Both cameras include baseband (SDI and HDMI), USB and IP video output, with support for RTSP, SRT, and RTMPS streaming. VC-A71P-HN is a broadcast-quality 4K model that adds NDI and NDI®|HX3 to its feature set while VC-TR40 is a new generation auto-tracking camera powered by artificial intelligence.

PTZ cameras are increasingly being adopted as part of AV installations, with organizations of all sizes adding cameras to board rooms, meeting spaces, conference rooms, and event areas. By integrating units with Extron IP Link Pro control, users can easily interface with each camera, while administrators benefit from secure, remote administration and control.

"We're excited that our IP Link Pro control processors now fully support these two advanced Lumens cameras," says Joe DaSilva, Vice-President of Marketing at Extron. "This certification allows these cameras to be used with our award-winning Pro Series Control systems, delivering superior imaging and AV control solutions to all of our customers."

"We are committed to support for the Extron platform, which helps customers worldwide streamline their AV operations. This new integration ensures that Extron users benefit from the latest innovations in camera technology, including automated production, IP video networking and support for professional color spaces." Commented Steven Liang, VP of Product Development at Lumens.

Control System Drivers can be downloaded from the Extron website, with Lumens cameras available from distributors worldwide.

More Details
For more information about Lumens AI Auto-Tracking Camera (VC-TR40), please visit:
https://www.mylumens.com/en/Products_detail/1082/VC-TR40-AI-Auto-Tracking-Camera

For more information about Lumens 4K NDI® PTZ Camera (VC-A71P-HN), please visit:
https://www.mylumens.com/en/Products_detail/1083/VC-A71P-HN_4K_NDI_PTZ_Camera_with_Full_NDI_and_NDIHX3

About Lumens Digital Optics Inc.
Lumens® Digital Optics Inc., a Pegatron Group company, is a leader in optical products. Lumens' product offerings include HD and 4K PTZ cameras, auto-tracking and auto-framing cameras, media processors, IP transmitters and decoders and document cameras. Founded in 1998, the company was created by a team with a deep technological heritage of image processing, video electronics, and optical technology. With the support of the Pegatron Group, Lumens is continuously improving product designs to be used in video studios, live events, classrooms, conference rooms, and for distance learning. For more information, visit Lumens' website.

About Extron – The AV Technology Leader
Every day, millions of people around the world are having their experiences enhanced by Extron audiovisual signal processing, distribution, and control solutions. We design advanced technologies to create better looking images, higher quality sound, systems that are easier to control and work more reliably. Our powerful asset management tools are helping technology professionals efficiently manage large numbers of audiovisual systems deployed throughout their enterprises and institutions. Extron AV technology solutions serve the diverse needs of organizations around the world and are deployed in a wide variety of corporate, educational, government, healthcare, retail, and entertainment applications. To learn more about Extron, click here.

Press Contact, Lumens
Eling Chen, Marketing Manager
Email: eling.chen@lumens.com.tw, Phone: +886-3-552-6255 ext. 238