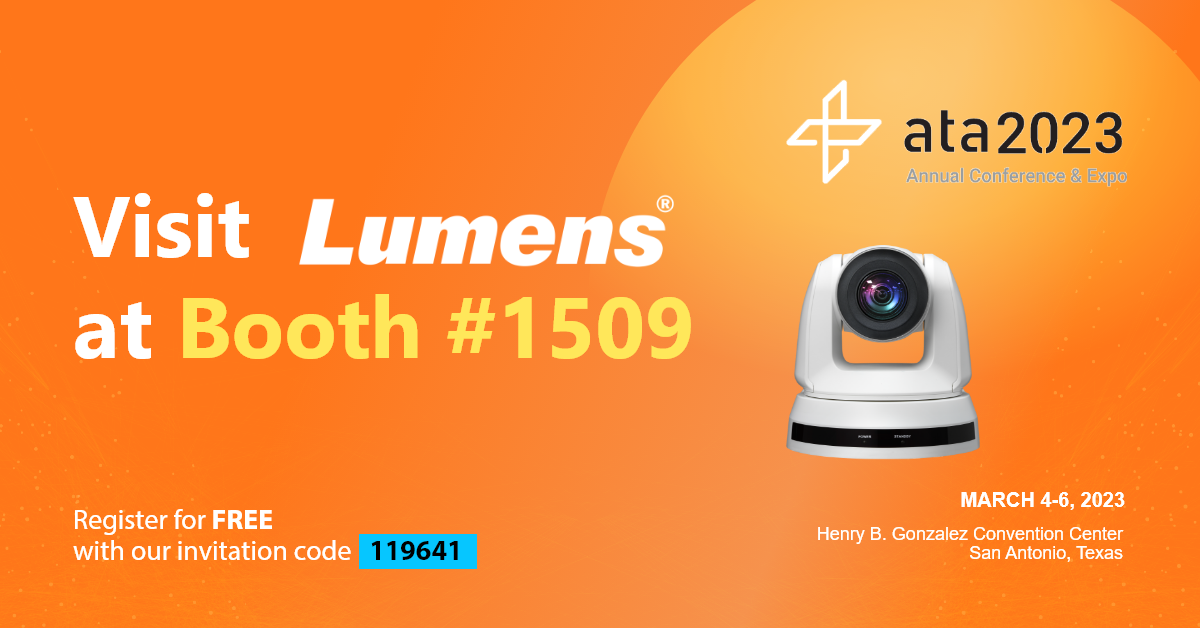 Hsinchu, Taiwan, February 21, 2023 – Lumens® Digital Optics Inc. today announced it will exhibit at the ATA Telehealth Conference, Booth #1509, in San Antonio, TX, during March 4th-6th. In the booth, Lumens will showcase several video conferencing cameras, an Auto-Tracking Cameras and PTZ Cameras that can be placed on medical carts, TVs and wall mounts. The cameras come with superior image quality and have fast-moving pan-tilt-zoom settings. With the ability to reach patients remotely, healthcare institutions are making advancements in the way patients are treated. The cameras work effortlessly with any type of video conferencing platform.

"Patients now can see a doctor virtually for diagnosis and treatment from anywhere in the world. Lumens telehealth solution helps doctors and therapists connect with patients, brings flexibility and convenience, and increases patient engagement." commented Steven Liang, Head of Product Development at Lumens Digital Optics Inc.

Event Information
Learn more about Lumens booth information, please visit:
https://www.mylumens.com/en/Page/77/Lumens_ATA_2023
Learn more about the ATA Telehealth Conference, please visit:
https://gotelehealth.org/

About Lumens
Lumens® Digital Optics Inc., a Pegatron Group company, is a leader in optical products. Lumens' product offerings include HD and 4K PTZ cameras, auto-tracking and auto-framing cameras, media processors, IP transmitters and decoders and document cameras. Founded in 1998, the company was created by a team with a deep technological heritage of image processing, video electronics, and optical technology. With the support of the Pegatron Group, Lumens is continuously improving product designs to be used in video studios, live events, classrooms, conference rooms, and for distance learning. For more information, visit Lumens website.

Press Contact, Lumens
Helen Perlegos, Marketing Manager
Email: helen.perlegos@lumensus.com
Phone: 510-933-1186