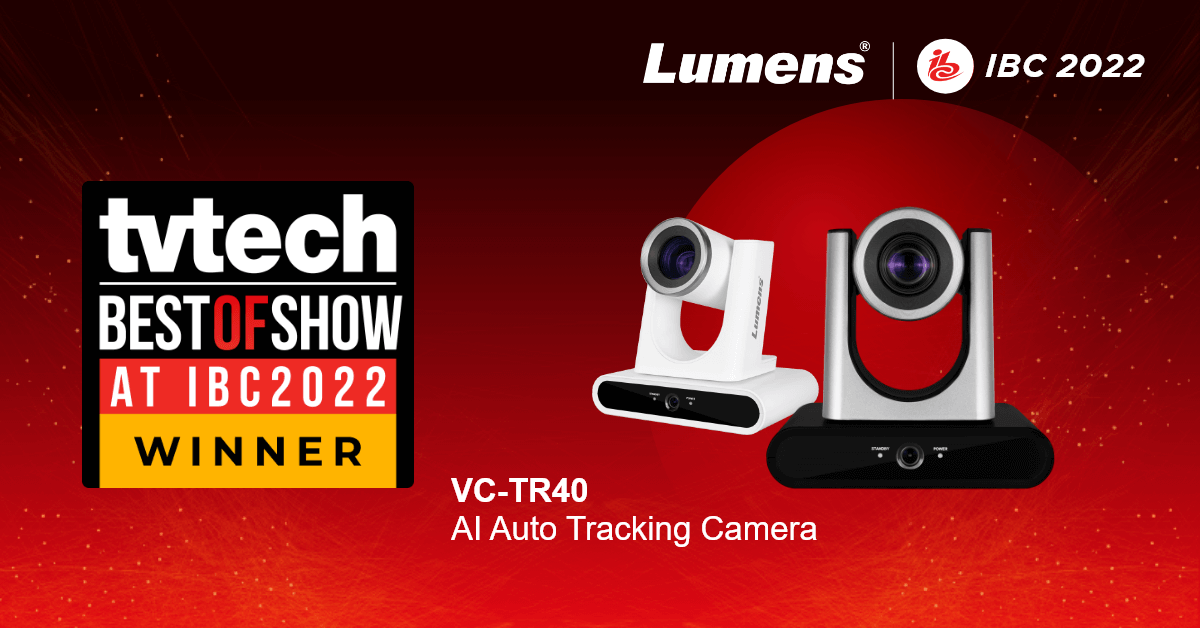 Hsinchu, Taiwan, September 27, 2022 – TVTech Magazine has announced that the new Lumens VC-TR40 Auto-Tracking PTZ camera has been presented a Best of Show award at this year's IBC. The accolade confirms that, with the VC-TR40, Auto-Tracking is finally ready to go mainstream.

The VC-TR40 is a new auto-tracking camera which uses self-learning technology to deliver exceptional results. Lumens' AI processor has been trained by analyzing over a million images faces and bodies in order to recognize what humans look like, how they move, and what characterizes the difference between individuals.

"With more than 1,000 exhibiting companies, the judging panel selected just 31 winning products. Of these only one was a camera." Commented Joris Nevens, General Manager of Lumens Digital Optics Europe. "This is testament to the sea change that this camera's auto-tracking represents."

Studio producers and conference managers have a growing requirement for reliable auto-tracking in PTZ cameras. However, to date, the technology has either been prohibitively expensive, complex to configure or unreliable in real-world shoots.

Steven Liang, VP of Product Development for Lumens commented: "Lumens established a strong foundation as a leading manufacturer by delivering broadcast-quality cameras, technical support, and the best-in-class warranty. This year has seen a surge of interest in auto-tracking cameras across all sectors of the market. Lumens' auto-tracking cameras deliver excellent results, without the need for server-based control software or tracking dongles that were required with earlier generation cameras."

The relatively low cost of the VC-TR40, its excellent HD image performance, and the reliability of its tracking means that this is the camera to make auto-tracking a core part of the industry. Its ability to automate camera operations is expected to lead to a significant streamlining of video production, web streaming and lecture capture.

---
Product Information:
Lumens VC-TR40 AI Auto-Tracking Camera
https://www.mylumens.com/en/Products_detail/1082/VC-TR40-AI-Auto-Tracking-Camera

Press Contact:
Jasmine Fan, Marketing Manager
Email: Jasmine.Fan@lumens.com.tw; Phone: +886-3-552-6255 ext. 227

Information:
For more information about Lumens, visit: www.MyLumens.com
Follow Lumens on Facebook: https://www.facebook.com/Lumensinc
Follow Lumens on Twitter: https://twitter.com/LumensLadibug
Follow Lumens on LinkedIn: https://www.linkedin.com/company/lumens-digital-optics
Follow Lumens on YouTube: https://www.youtube.com/c/MyLumens

About Lumens Digital Optics Inc.
Lumens® manufactures broadcast-quality PTZ cameras, video conferencing cameras, document cameras, wireless collaboration technology, video processing systems, and video over IP devices. Based in Taiwan and part of the Pegatron Group, Lumens has offices in Asia, Europe, and the USA.