Lumens VC-B11U 4K USB video conference camera is now certified as a Zoom Rooms Conference Room Camera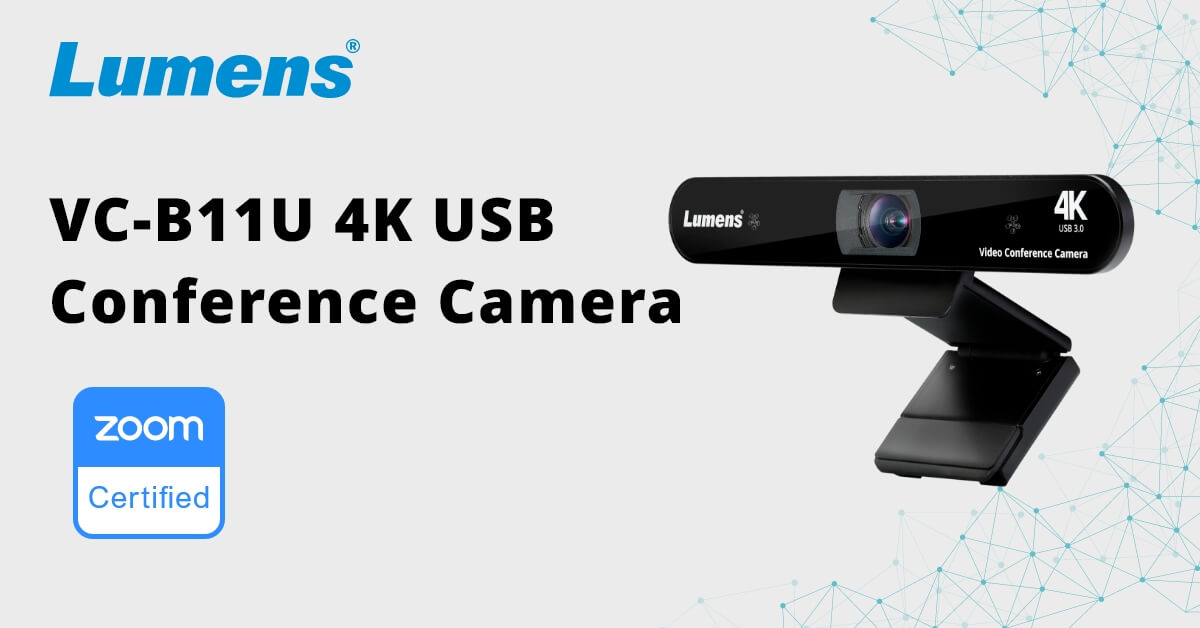 Hsinchu, Taiwan, October 13, 2021 – Lumens® Digital Optics Inc., today announced that the VC-B11U 4K USB conference camera has been certified by Zoom Video Communications, Inc. as a conference room camera for Zoom Rooms.

Lumens VC-B11U is a 4K USB camera with an ultra-wide lens, capable of capturing multiple participants in huddle rooms, lecture theaters, classrooms, offices, or meeting spaces. Fully compliant with Zoom's video conference and webinar platforms, VC-B11U's framing technology and intelligent zoom feature automatically ensures that all participants are included in the meeting. Its auto-focus and auto-exposure functions further automate the video conference, minimizing setup time and eliminating the need to change settings during a meeting.

"The last 18 months have shown the need for automated video conferencing solutions. Technologies such as auto-framing and auto-tracking are already reducing the burden on AV teams and making the life of meeting planners much easier. Zoom certification for the VC-B11U gives customers the confidence to use this Lumens camera for even the most important virtual meetings and webinars." Commented Steven Liang, VP of Product Development at Lumens Digital Optics Inc.

The VC-B11U is equipped with an UltraHD sensor and advanced WDR (wide dynamic range) technology. Whether in low light, direct sunlight, or mixed lighting conditions, the camera ensures that everyone is seen clearly during the video conference. Dual high sensitivity microphones effectively capture the human voice with remarkable clarity, at a distance of up to 5 meters.

The VC-B11U joins the Lumens VC-B30U PTZ camera in receiving Zoom certification.
Information:
For more information about Lumens and Zoom Integration Partnership,
visit: https://www.mylumens.com/en/Page/35/lumens-zoom-partner-video-conferencing-solution
For more information about Zoom, visit: https://zoom.us/
For more information about Lumens, visit: www.MyLumens.com
Press Contact:
Jasmine Fan, Marketing Manager
Email: Jasmine.Fan@lumens.com.tw ; Phone: +886-3-552-6255 ext. 227
About Lumens Digital Optics Inc.
Lumens® manufactures broadcast-quality PTZ cameras, video conferencing cameras, document cameras, wireless collaboration technology, video processing systems, and video over IP devices. Based in Taiwan and part of the Pegatron Group, Lumens has offices in Asia, Europe, and the USA.