AV Concerns
1. Managing multiple HDMI, USB and Ethernet cables can be messy and unnecessarily complex.
2. It can be difficult to add more than one laptop to a meeting.
3. A laptop's built-in camera is not designed to capture multiple people around a table.
Solution Features
• Single Cable Connection
   Plug the USB ClickShare Button into your laptop for instant on-screen projection.
•
Wireless Connection
Barco
ClickShare connects wirelessly with your laptop and a wide range of audio-visual peripherals.
• 
Instant Video Conference
   With the
Barco
ClickShare Wireless Conference, you start a video conference with one click.
• Constructive Meetings
   Enjoy interactive screen sharing to enhance discussions.
• Clutter-free Meeting Room
   A wireless connection replaces long cables and keeps the meeting room looking professional.
• Intelligent Auto Framing
   The VC-B11U's auto-framing immediately detects participants in a room. It dynamically adjusts its frame to include all delegates, re-framing the view if participants join or leave during the meeting.
• Wide angle view
   120˚ viewing angle is ideal for small meeting spaces, allowing all attendees to be photographed.
Product Selection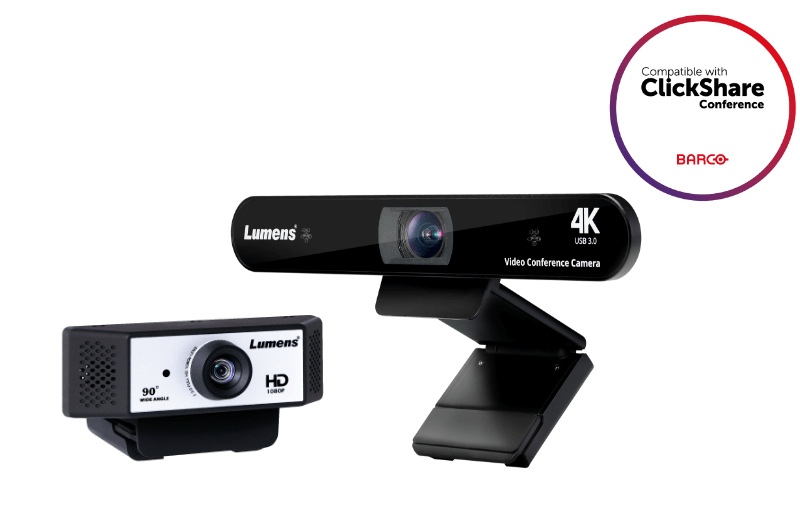 • Video Conference Camera
Lumens VC-B2U
Lumens VC-B11U
• Wireless Presentation System
Barco ClickShare CX20
Barco
ClickShare button
System Deployment